This guide is designed to help you find the best leg press machine on the market. Whether you're short on space and looking for a compact leg press, or enjoy a full-size home gym large enough for a hack squat and leg press sled, we've got you covered.
We'll walk you through what to expect from each type of leg press, from incline plate-loaded designs to cable pulley systems that fit to existing home gyms. We'll also take you through the benefits and advantages of using leg press machines as well as how to use them safely.
In addition to our leg press reviews, you'll also find a buying guide and recommendations for other leg exercising equipment, such as leg extension and hamstring curl machines.
These isolation exercises are the perfect addition to any leg press machine, allowing you to focus on specific leg muscles, like the quadriceps, soleus, glutes, and hamstrings.
What is a Leg Press Machine?
If you want to increase leg strength and build muscle, you need to move enough weight to challenge your body. This causes the muscle to break down and rebuild stronger, as it adapts to the stress.
Commercial gyms are often fitted with heavy-duty power cages, which have safety rails to catch the bar if necessary.
But what if you don't have a power cage at home, or want to build bigger, stronger legs without squats?
Having access to a good quality leg press machine is often the next best thing. Padding around the head, neck, and shoulders provides comfort, with a large non-slip footplate to position your feet upon.
At-home leg press machines have several advantages over the leg press in your local gym. Not only are they more affordable, but most of them also double as a hack squat machine.
A simple adjustment of the locking pin lets you switch from heavy leg presses to hack squats. Unfortunately, it's a feature that's only available on leg press sleds, not leverage or vertical leg press machines.
Best Leg Press Machine Comparison Table (Top 11)
For those of you who want a snapshot comparison of the top products, we've got you covered.
We've taken the top 11 leg press machines and compared them according to type, budget, weight capacity, dimensions, and additional exercises.
Jump ahead if you want to get straight to reading the top 11 Leg Press Machines for Home Gyms reviews.
This table contains affiliate links. We may earn commission on qualifying purchases.
Top 11 Best Leg Press Machines for Home Gyms
Finding the best leg press machine for your home isn't easy. First, you must research the different brands to find out which have the best warranties, customer service, and build quality.
Next, you need to balance this against your budget, any space limitations, and personal strength. It's no use buying a new or used leg press if the weight limit is too low. You'll be forced into high-rep training to reach muscle failure, which isn't the best way to build strength and muscle.
That's why we've done the leg work for you.
We researched all the major brands, including Body Solid, Yukon Fitness, XMark Fitness, EliteFTS, French Fitness, and Rogue Fitness. This meant looking at all aspects of design, from frame strength to the size of the footprint.
Finally, we tested over 25 leg press machines and cut these down to a list of our 11 top recommendations.
The list below contains the market's 11 best leg press machines for home gyms. This includes an option for all budgets, space requirements, and strength levels.
Quad track roller system for even weight distribution
Large, heavy gauge Diamond Plate foot platforms
Heavy-duty 2″ x 4″ 11-gauge steel frame for maximum strength
Double-stitched 4″ thick DuraFirm cushioning
3 lockout positions for complete safety when lifting
2″ diameter Olympic weight plate pegs
1,000 lb weight capacity
Dimensions: 56″H x 83″L x 34″W
The Body Solid GLPH1100 Leg Press is one of the top leg press machines on the market.
It features the same 1,000 lb capacity as our #2 product, the Powertec Leg Press, but with one major difference. By rotating the back support and adjusting the position of the heavy gauge diamond foot plates, the Body-Solid Leg Press can also be used as a hack squat machine.
We appreciated the dual safety handles. These put you in complete control of the three lockout positions, allowing you to lift heavy weights safely in your home gym, without the need for a spotter.
DuraFirm padding on both back supports is ergonomically contoured to provide extra protection for your lower back. We could also adjust the angle of the back support to cater for different leg lengths.
The Body Solid Leg Press Hack Squat machine is commercial rated, which means a lifetime warranty on the frame and welds, bearings, guide rods, upholstery, and grips, when used in a home gym.
This leg press is our firm favorite, especially if you have a roomier home gym. It does have a slightly larger footprint and higher price point than our #2 choice, yet the Body-Solid's extra function as a hack squat machine makes it worthwhile.
The Body-Solid design is priced at around $2,200 while the Powertec Leg Press usually retails for about $1,500. Just bear in mind that the Powertec machines are hardly ever in stock.
Revolutionary carriage roller system for a smooth sliding motion
Redesigned dual safety levers
Four weight plate pegs, compatible with standard weight plates
Large foot plate for wide spread support
Nylon reinforced wheels for improved stability
1,000 lb weight capacity
Dimensions: 79″L x 36.6″W x 54″H
The Powertec Fitness Leg Press (P-LP16) is another of our best leg press machine contenders.
Redesigned back in 2016, the reduced footprint means it takes up less space in your home gym. Powertec managed to reduce the width by around 4-inches on each side, giving their leg press dimensions of 79″(L) x 36.6″(W) x 54″(H).
This means it takes up less floor space than the Body-Solid GLPH1100 Leg Press, whose footprint measures 83″(L) x 34″(W).
The dual safety levers have also been upgraded on this model, with an ergonomic grip design that made it much easier for us to rotate the locking pins to release and secure the weight sled.
The 1,000 lb capacity is possible thanks to the solid steel frame and four weight horns built into the carriage. That's twice as many as you'll find on the Body Solid Leg Press.
A large, high tensile strength foot plate supports a wide range of foot positions. This allowed us to switch between leg presses and calf raises in seconds.
You can also adjust your foot placement from narrow to wide stance, to focus on different leg muscles.
To help protect your lower back and provide added comfort, the back support is fully adjustable. Powertec combine this with high-density foam padding on the backrest and seat for added comfort. This kept our neck, head, and shoulders supported and created a stable base from which to press heavy weights.
A bearing driven roller system with nylon reinforced wheels completes the Powertec Leg Press design. Bearings help guarantee smoothness and stability throughout your leg press workout.
Be aware that this product is suited to users between 4ft 9" and 6 ft 3".
1000 lbs weight rating
Linear bearings create smooth, quiet motion
Multiple lockout positions
Durable, comfortable padding & adjustable backpad/footplate angles
8 adjustable weight plate storage holders
Rubber non-skid feet
Solid resistance foam grip handle with ABS chrome-plated end cover
Chrome-plated rear adjustment board
The French Fitness Monster P/L Hack Squat Leg Press makes our #3 position for the best leg press machines.
Similar to our top two products, the French Fitness leg press machine offers a 1000 lb weight capacity. However, like the Body-Solid GLPH1100, it can also be used for hack squats as well as forward thrusts, and calf lifts.
During our test, it didn't take more than a quick flip of the back pad and drop of the leg press footplate before we could start doing squats. We were able to swap smoothly between leg presses and squats without needing to extend our rest periods.
The French Fitness Monster P/L Hack Squat Leg Press checks all the boxes for safety too. The side rails have handles that give great control during the workout. The multiple lockout positions meant we could lift heavy without fear of failure.
In terms of comfort and ease of use, the back pad support is adjustable (excellent for multiple users) and feels secure against your spine. The handlebar right above the footplate is a great addition that makes it easy to get in and out of the leg press machine.
On top of the extra exercises like calf lifts and hack squats, the oversized footplates also cater to a variety of foot positions, enabling you to train and target different leg muscles from multiple angles.
This quiet leg press machine features a 10-year parts and 1-year labor warranty. It also incorporates resistance bands for extra intensity and 8 weight horns for convenient weight plate storage.
The French Fitness Monster P/L Hack Squat Leg Press is an excellent home gym buy. Just keep in mind that the 103.7″L x 59.4″W x 74″H footprint is larger than most home leg presses , making it better suited to a larger home gym and/or light commercial use.
If you have the space, we recommend it. This machine gives a lot of bang for its $2,299 price tag thanks to its multiple exercises and solid design.
If you're looking for something smaller from the French Fitness brand, read our review on the French Fitness Hack Squat Leg Press Machine.
Thick neck pad and back cushioning for added support
Extra-wide non-slip foot plate
3 locking points for complete safety while lifting
Nylon bushings for a smooth, consistent motion
Three 1″ standard weight plate pegs
Olympic adapter sleeves also available
In-home warrant: 10 years frame, 1 year parts
400 lb weight capacity
Dimensions: 61″H x 46″L x 48″W
The PowerLine PVLP156X is our #4 on our list of the top leg press machines on the market. It is also the only vertical leg press produced by Body Solid.
The vertical leg press is often seen as the only safe alternative to smith machine leg presses, as the frame and range of motion have been customized for this one specific exercise.
Having a diamond plate steel foot plate to press against also means you don't have to worry about balancing a bar on the soles of your feet.
The only downside is that the weight capacity isn't as high as other leg press machines, with a maximum capacity of just 400 lbs.
Three weight plate pegs on top of the platform can hold standard weight plates by default (1″ diameter hole), but can be upgraded to hold Olympic weight plates if you buy a set of Olympic Adapter Sleeves.
Dual adjustable 1/2″ steel locking pins allowed us to quickly switch between three starting and stopping positions, with nylon bushings for a smooth and consistent leg press motion.
Although the vertical leg press can help build lower body muscle, the positioning of your legs and lower back can cause joint pain. That's why Body Solid created the Powerline PVLP156X Leg Press with an extra-wide foot plate. This allows you to find a natural and comfortable foot placement.
We found that the thick cushioning in the back and neck pads provided some much-needed support for this challenging lower body exercise.
Dimensions of the Powerline PVLP156X are 48″(W) x 46″(L) x 61″(H), with an overall product weight of just 90 lbs. This makes it the most lightweight and compact leg press on the market.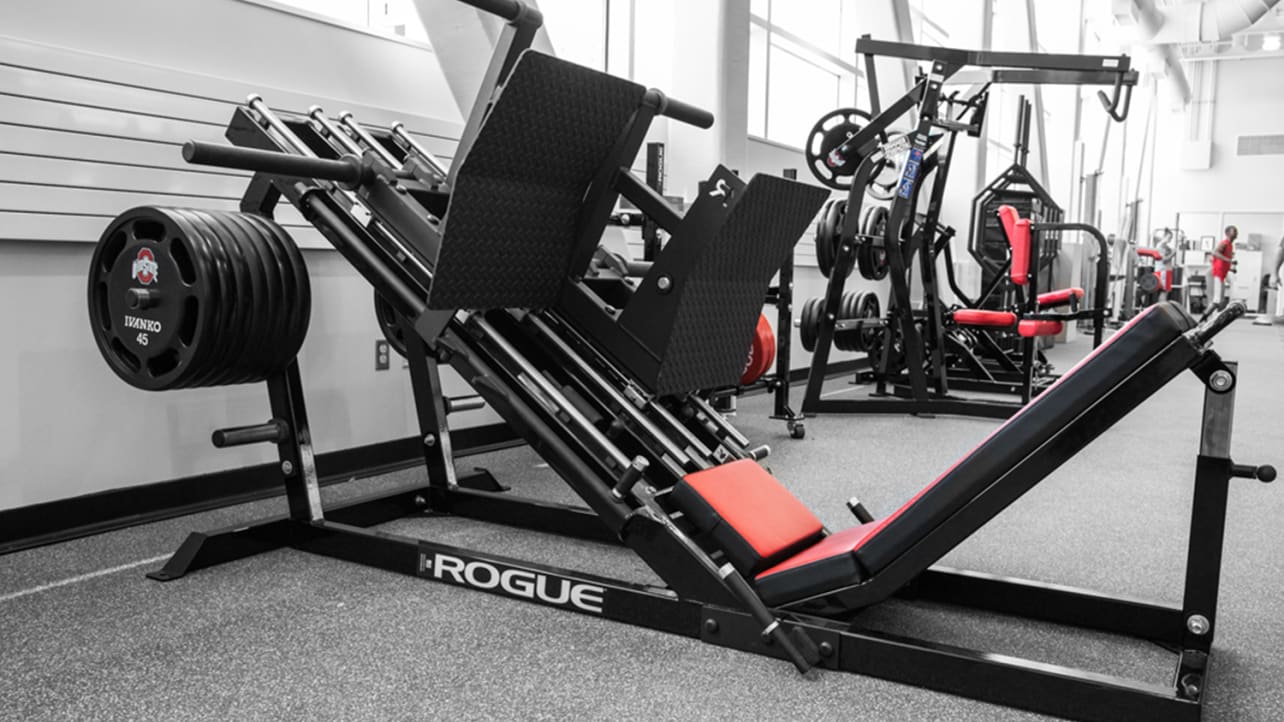 17.25″ and 10.5″ loadable weight plate posts
Multi-angle foot-deck and adjustable lumbar seat
Bilateral/unilateral 45-degree leg press machine
Spring-loaded stop handles
Made to order, built in Columbus, Ohio, USA
Weight capacity: 2,475 lbs
Dimensions: 47″H x 98″L x 64″W
The Rogue Iso Leg Press is completely unique to any other machine in this guide.
It's designed for commercial gyms, but if you have the space (and budget) to fit one in your own home gym, it's up there with the strongest leg press machines on the market.
Weight capacity is an impressive 2,475 lbs, which is more than double the limit of any other machine on our list. It also features a unique bilateral/unilateral leg press motion. It was a new and excellent experience for us to be able to train each leg individually, or both at the same time.
The footprint is a lot larger than any of the designs listed here, measuring 64″W x 98″L. This is to improve stability, and make room for the four on-frame Olympic weight plate storage posts.
An adjustable back support, multi-angle foot-deck, and adjustable spring safety stops cater for a wide range of user heights, keeping you safe when pressing heavy weights.
Something worth bearing in mind is that this entire unit ships fully assembled. It's made to order, and ships in 3-6 weeks.
The weight of the frame alone is 708 lbs (sled weight 182 lbs), so by the time you add the weight plates, you're looking at a leg press machine that can weigh more than 3,000 lbs.
It's built right here in the USA, in Columbus, Ohio, and if you're looking for a stronger leg press than most of the home gym machines online, this could be the perfect choice.
It's also a more affordable option than the Monster Mondo Leg Press from EliteFTS, which is another unilateral/bilateral 45-degree leg press, but with a product weight closer to 1,200 lbs.
Weight capacity 1,000 lbs
Extra-wide foot deck
3" thick stitched padding
Strong safety stoppers
Mounted on 8 HD rollers
Dimensions: 49" (W) x 47" (D) x 75" (H)
Weight: 200 lbs
In terms of vertical leg press machines, the TDS Premier Vertical Leg Press machine is the second entry on our list (the first being the Powerline model).
TDS made its name as a brand with a number of quality power racks. We found that this vertical leg press doesn't let them down, with its durable frame made up of heavy-duty steel tubing.
The construction is mounted on eight steel rollers and can support up to 1,000 lbs of weight – similar to #1 and #2 on our list.
As a vertical leg press, this is a good match for a compact home gym. We found it didn't take up as much space as horizontal and leverage leg presses.
For safety, this leg press has four safety catches. We found these effective and never felt like we were trapped or at risk under the weight.
The extra-wide footplate translates to an even weight distribution and accommodates varying foot sizes. We tried the machine with shoe sizes 7.5 and 11.5 with no is-shoes.
The padding felt comfortable and solid beneath our backs and at no point did we feel our form was compromised.
But a word of warning, some users have complained about the assembly instructions being frustrating. If you're new to the world of gym equipment assembly, contact a buddy who can help you with this.
Space-saving design, with plates loaded under the carriage
5-position Diamond leg press plate
Heavy-duty 2″ x 3″ steel frame
Double-stitched upholstery and thick padding for added comfort
Industrial grade linear bearings for a smooth pressing motion
Removable 3″ calf block for donkey calf raises
1,000 lb weight capacity
Dimensions: 50″H x 79″L x 50″W
The BodyCraft F660 is one of the top leg press machines for your home, with the option to perform both leg presses and hack squats.
To guarantee a smooth sliding carriage motion, Bodycraft have used industrial grade linear bearings, similar to those used by EliteFTS in their Monster Mondo leg press.
They're capable of moving heavy weights with minimal friction, which is perfect for sliding along the 1.25″ solid steel guide rods.
One of the more unique features is the donkey squat pad. This can attach to the leg press foot plate, and works in conjunction with a 3″ calf block to support donkey calf raises.
The back support, upper foot plate, and lower foot plate are all fully adjustable, to cater for a wide range of users. You can also adjust the shoulder pads when you perform hack squats, to provide increased comfort and assist with injury prevention.
Foot plate movement is unilateral as opposed to bilateral, which simply means it can't be split in half the way you can with the Rogue Fitness Iso 35 design.
But you can still perform a variety of leg exercises, including the single leg press, seated leg press, hack squat, calf raises, donkey calf raises, and hack squats.
Bodycraft's F660 leg press is covered by a lifetime in-home warranty, which applies to the frame and parts. This applies to defects in workmanship rather than standard wear and tear, but it's still some of the best coverage available.
Three weight posts with plenty of room to add weight
Non-slip diamond plated foot plate
High-quality 11-gauge steel construction
Thick back padding & ergonomic rubber grips on posts
Compatible with Olympic-sized weight plates
400 lb weight capacity
Overall footprint: 48" x 38"
Weight: 94 lbs
The Titan Fitness Vertical Leg Press is the final vertical leg press on our roundup. This piece of equipment makes the list because of its quality, compact size, and jaw-dropping price.
With a price of $500 and small size, this is a great product for newbies in weight lifting. And, for those with smaller spaces to work out in.
Although low on price, we find that it doesn't skimp on quality. Titan Fitness equipment is known for longevity and quality. So, don't think that the price equals shoddy quality – it doesn't.
It's super compact and strong enough to handle an intense leg session for most lifters. The maximum weight capacity is only 400 lbs but most people won't be lifting that amount of weight for some time – so we don't see this as a huge con.
The Titan Fitness Vertical Leg Press provides for four starting positions and three weight horns (for Olympic weights).
The back padding is nice and thick. We loved this as it felt comfortable so we could just focus on the pressing motion. The ergonomic rubber grips were also a nice touch that made it easier to get in and out of the product.
Fully adjustable back support with DuraFirm™ cushioning
Nylon-coated aircraft-quality steel cables
Chrome plated solid steel guide rods for a smooth leg press motion
210 lb weight stack as standard (310 lb optional)
Pillow block and sealed ball-bearings for friction-free movement
Dimensions: 72″H x 75″L x 32″W
The Body Solid SLP500G2 leg press machine is supplied with a 210 lb. weight stack as standard, but can be upgraded to 310 lbs if needed. That's less than the 400 lb capacity of their PVLP156X Vertical Leg Press, and well below the 1,000 lb limit of their GLPH1100 leg press hack squat machine.
That being said, you'll struggle to find a stronger horizontal leg press. Its 2″ x 4″ high-tensile strength steel mainframe is commercial rated, with fiberglass reinforced nylon pulleys.
For added comfort, Body Solid have opted for their DuraFirm double-stitched upholstery. This is the same ergonomic cushioning we saw on the GLPH1100, and provides excellent lower back support.
The press plate has two positions to choose from, while the seat has multiple positions to cater for different leg lengths. The back support has also been angled to minimize spinal compression, while still allowing a complete natural range of motion.
Weight Stack Adapter Plates are also available if you want to increase the resistance in 2.5 or 5 lb. increments (WSA2-5 and WSA5 on the Body Solid website).
Dimensions of the Body Solid ProClub Line Leg Press measure 75″(L) x 32″(W) x 72″(H). This is a much smaller footprint than the leg press sled and hack squat combinations.
As part of their Pro Club Line of strength equipment, the Body Solid SLP500G2 Leg Press has a lifetime in-home warranty on the frame and welds, pulleys, bushings, bearings, cables, and upholstery (applies in United States only).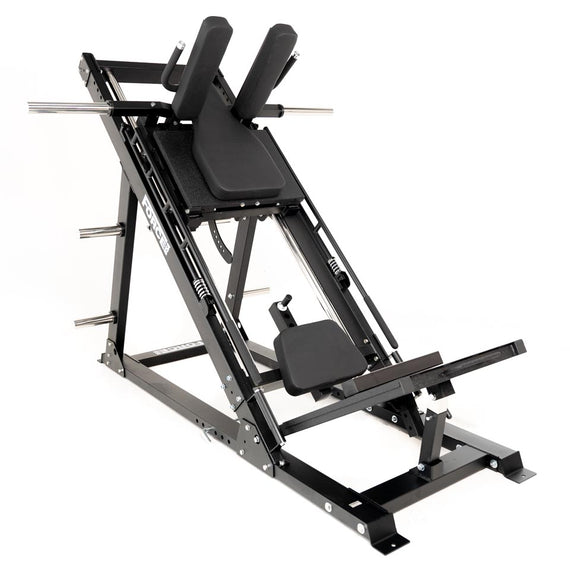 Commercial DuraCore padding & VorTex upholstery
High-quality 13 gauge steel construction
3 Machines: Leg Press, Hack Squat, Calf Raise
1,000 lb weight rating
5 Foot Plate Angle Adjustments
Dimensions: 60″H x 94″D x 66″W
The Force USA Ultimate Leg Press Hack Squat Combo combines the brute force of (light) commercial equipment with the versatility of home gym equipment.
We loved the look and feel of this machine. Considering it's a heavy-duty, multi-function piece of equipment, it has an economical footprint.
It's hugely versatile. We could switch out the seat quickly to allow for hack squats. We could also perform forward thrusts and calf raises without having to make big adjustments or interruptions to the session.
We do believe this would be higher up the list if we didn't have to weigh up the average home gym size as well as the price. The machine is tall and deep, at 60" and 94" respectively, which is great for tall users. But, not for compact home gyms with lower ceilings.
By itself, the unit weighs 463 lbs so moving it around isn't as simple as moving a weight bench or barbell around the gym. You'll also want to ensure you have strong and adequate flooring.
The machine's footplate is 26" by 22", which we found great for our team's foot sizes. However, there have been comments from users taller than 6ft3" that they wish the hack squat platform was wider for stance purposes.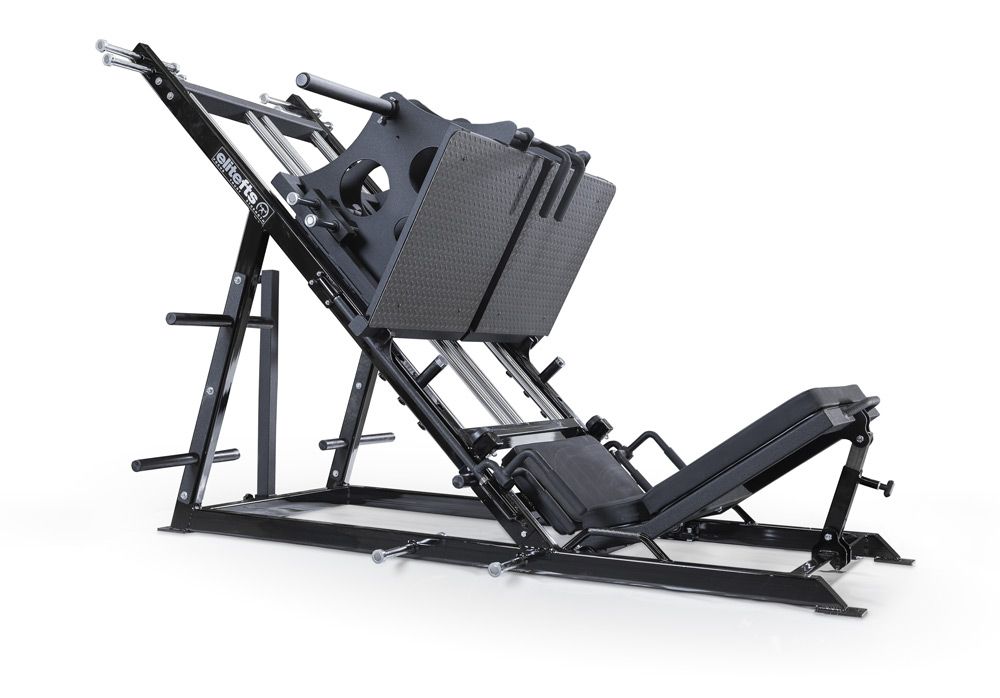 Great for wide stance and close stance leg presses
Unilateral/bilateral leg press design for muscle isolation
4 Smooth linear bearing guide rods
Ultra-wide 53″ x 20″ foot plate
45-degree leg press motion
Multiple resistance band attachment points
3″ x 2″ solid steel frame
Dimensions: 66″H x 107″L x 68″W
If you're looking for the strongest leg press machine on the market, suitable for large home gyms and commercial weight rooms, this is your best option.
As with the Rogue Fitness machine, the foot plate is split in two, allowing for isolateral leg presses, toe presses, and calf raises. To ensure complete stability, each of these plates is supported by 2 linear bearing guide rods, and 1.5" linear bearings for a smooth pressing motion.
Adjustable safety catch pins help guarantee your safety, even without a spotter, while the extra wide split adjustable seat is packed with high-density cushioning to protect your neck and lower back.
The frame and pad colors can be customized, with a frame weight of close to 1,200 lbs and estimated shipping out time of 4-6 weeks after placing your order. Due to the size and complexity of this leg press machine, it arrives partially assembled.
Types of Leg Press Machine
Before buying a new leg press machine, it's worth knowing the differences between the various types.
1. Leverage Leg Press
Plate-loaded leverage leg presses are usually only found in commercial gyms and fitness centers. They feature a horizontal design, which results in a larger footprint – not ideal if you have a compact home gym.
Some of the larger fitness equipment companies, such as Body Solid, sell this type of leg press, but it's one of their most expensive options. One example is the Body Solid LVLP Leverage Leg Press, which features large pivoting footplates, heavy-duty 11-gauge steel construction, and a fully adjustable back support system.
Dick's Sporting Goods had this model listed for around $2,300, which was more expensive than the Body Solid ProClub Line Leg Press Machine (cable pulley system) and the Body Solid LP40S Leg Press (cable pulley system).
One of the reasons leverage leg presses are so popular is because they're incredibly safe. Bumper pads attached to the frame make it impossible for the weight to pin you against the seat, which eliminates the need for a spotter.
They also offer a fluid, functional pressing motion, that pivots around a central point. This results in less maintenance than a leg press sled that slides along rails.
There's only one downside, which is if you already have very strong legs. The Olympic weight plate pegs are usually long enough to hold around 10 of the 45 lb plates each side. Because the frame is horizontal, you need more weight than the vertical or 45-degree leg press machines to feel the same resistance.
For home gyms, this could be a problem, as you might not have space to store dozens of 45 lb plates, and the weight plate capacity may not be sufficient if you gain more strength.
With a lever leg press, the resistance level also changes as you lower the weight, whereas a 45-degree leg press maintains the same resistance throughout.
---
2. Smith Machine Leg Press
Performing vertical leg presses in a smith machine can still be part of an effective leg workout, but it can be difficult to rotate the bar enough to rack and release heavier weights.
For this variation of the leg press, you lie on your back between the uprights of a smith machine, position the barbell on the arches of your feet, and push the weight.
Avoid this type of leg press exercise. The smith machine is an effective piece of fitness equipment, but it's not designed to perform leg presses. Squats are the only leg exercise you should perform in a smith machine.
You're essentially trying to mimic the range of motion offered by the Powerline Vertical Leg Press, but for most people it places too much strain on the hip and knee joints.
---
3. Cable Machine Leg Press
Multi-station home gym systems sometimes offer a leg press as an optional upgrade, where a cable pulley runs under the seat to connect one of the weight stacks to the foot plate.
Cable leg press machines are always horizontal in design, and allow you to adjust the distance between the seat and foot plate, to cater for different leg lengths.
Because they rely on a cable system, the amount of resistance is limited to how much weight is in the stack. Usually this isn't much more than a few hundred pounds, compared to the 1,500 lb+ limit of some 45-degree leg press machines.
Some strength equipment companies also offer standalone machines, that don't attach to an existing home gym. However, these are often designed for light commercial use, and can cost more than one of the leg press and hack squat combinations from XMark Fitness, Body Solid, or Yukon Fitness.
---
4. 45-degree Leg Press Machine
This is the most popular type of leg press in home and commercial gyms across the country. Every major supplier of strength equipment seems to have their own design, including Cybex, Body Solid, XMark Fitness, Bodymax, French Fitness, and Rogue Fitness.
The weight plates are loaded on standard or Olympic size weight pegs, which are usually positioned on each side of the sliding carriage. To save space, some companies have fitted the pegs to the base of the leg press sled.
Aside from one or two exceptions, the smooth, quiet motion is made possible with the use of linear bearings. These are the contact point between the solid steel guide rods and the weight plate sled, and are renowned for their strength and low friction movement.
Resistance comes entirely from weight plates, with no cables or pulley systems. The 45-degree angle targets all four heads of the quadricep muscle (rectus femoris, vastus lateralis, vastus intermedius, and vastus medialis) to varying degrees, depending on your foot placement.
With a deep enough range of motion, you can also engage the gluteus maximus, adductor magnus, hamstrings, and soleus (calf muscles), for a challenging leg workout.
Why Use a Leg Press Machine at Home?
Over time, an increasing amount of fitness equipment has been designed for home gyms. What started with just dumbbells and barbells now extends to stairclimbers, vibration plates, vertical climbers, and of course, leg presses.
Surprisingly, leg press machines in commercial gyms and fitness centers rarely hold more weight than the machines designed for home gyms. This is particularly true of the cable machines and leverage presses.
Some larger commercial gyms have heavy-duty 45-degree leg press machines, capable of holding thousands of pounds of weight plates. But have you ever considered how much of this you actually use?
Are there any benefits to buying a leg press for your home instead of a local gym membership?
---
1. Saves You Money
Ok, so buying a $2,000 leg press machine may not seem like the cheapest option compared to a $50 per month gym membership. But when you add in the joining fees, you could be looking at closer to $800 for the first year.
If you're only using the gym for strength training and cardio, maybe a home gym system, leg press, and treadmill is all you need?
With companies like French Fitness and Body Solid offering lengthy in-home warranties, you should think about what makes the most sense for the future. Many fitness equipment companies also offer 0% interest finance deals, which could make the cost of a new leg press, treadmill, and other equipment less than a gym membership.
After 5 years, rather than sinking all your money into a gym membership and having nothing to physically show for it, you could have a fully-kitted home gym. Then you're paying nothing each month, yet still have access to all the same high quality equipment.
Just make sure that when you're buying a new leg press machine for your home, you find one with a lengthy and comprehensive warranty.
---
2. Saves You Time
Even if you're fortunate enough to live or work near a local gym, having a high-quality leg press machine at home can still save you time.
What if the local gym doesn't have 24 hour opening hours? You're forced to move everything else in your day around to cater to their schedule, or miss your workout entirely.
By having a leg press at home, you can train any time of day, even if you have 30 minutes to spare. There's no time spent driving, looking for parking, checking everything into a locker, then walking to the workout area.
---
3. Perfect Fit for Your Size
Most commercial gyms only provide access to one type of leg press. But how do you know if that's the best range of motion for your height and body type?
Home leg press machines often have a wider range of adjustable features, such as the back support and locking pins. You also have the freedom to choose between lever, horizontal, cable, and 45-degree leg press designs.
Although the footprint is larger than most fitness equipment, compact leg press machines do exist, such as the redesigned Powertec Fitness Leg Press.
---
4. Supports Multiple Compound Leg Exercises
Most of the top-rated home leg press machines also support hack squats, like the Body-Solid GLPH1100 and the French Fitness Monster P/L Hack Squat Leg Press. The ability to quickly switch between two effective lower body exercises is invaluable when you have limited space to workout.
Finding a commercial gym with a hack squat machine isn't easy, but it's one of the best leg exercises for targeting the vastus medialis. This is one of the inside upper leg muscles, which appears in a teardrop shape flowing down the quadricep to the knee.
When you perform the two exercises as part of the same leg workout, you're effectively targeting your quads, hamstrings, glutes, and even calves.
How to Use a Leg Press Machine Safely and Correctly
If you're buying a high quality leg press, chances are it's packed with useful safety features. Multiple locking positions to rack the weight, buffers to stop the carriage sliding below a certain point, and high-density cushioning to relieve pressure on your lower back to name a few.
But to get the most benefit from this powerful leg exercise, it's important to follow 5 key points.
1. Hands Off the Knees
Most of the top leg press machines have built-in handles on either side of the seat. This is where your hands should be throughout each set and repetition.
By holding onto the handles, you can ensure your body remains in the most effective position to push heavy weights. You're also keeping the resistance loaded solely on your quads, hamstrings, calves, and glutes.If your hands are on your knees, the temptation is to use them to help push the weight back up.
This is when you start using your chest, shoulders, triceps, abs, and forearms to take some of the strain.Your neck can also become rounded as you lean forward, which means your spine is no longer flat against the back support, increasing the risk of injury.
2. Use the Correct Back Support Setting
Whether it's a leverage leg press or cable machine, the back support almost always has a pop-pin adjustment system.With a horizontal cable leg press, this can affect the distance between the foot plate and the seat.
On a 45-degree leg press and most of the plate loaded machines, the adjustment will be to the angle of the back support.Both are equally important.
We recommend taking the time to find a setting that allows a full, natural range of motion.For the back support angle, you're looking for a compromise where pushing heavier weights doesn't cause you to rise in the seat, and lowering the weight doesn't cause discomfort in your ankles or compression on your chest.
3. No Ego Lifting
We've all seen the videos of people maxing out the leg press machine weights, then people climbing on top for added resistance.
What comes next is usually a poor excuse for a set, with a short range of motion, pushing on the knees with their hands, and maybe even a spotter or two to help push the sled back up.
Home gyms are slightly different. You're not looking to impress anyone and probably have a good understanding of your own strength. It's better to keep the weight lower and maintain strict exercise form than struggle through a set of half reps.
4. Avoid Full Lockout
Whenever possible, it's always best to avoid full lockout on the leg press. If you consider how much weight your moving and why you're moving it, you want to keep the strain loaded on the muscle.
Locking out your knees at full extension means a good portion of this stress shifts to the joint, which causes unnecessary pressure and increases the risk of injury.
5. As a Standard Guide to Most Leg Press Machines:
1) Sit on the seat with your back pressed against the support
2) Position for feet on the foot plate, slightly wider than shoulder width apart
3) Hold onto the handles on either side of the seat, and push the foot plate away from the locked position
4) Rotate the safety handle so the sled or lever is free to move
5) Return your grip to the handles by the seat, and begin lowering your knees towards your chest
6) Once you reach the lowest point of your rep, push the weight until your knees are near full extension
7) Repeat until your complete the required number of repetitions
8) After your last rep, press the weight until your knees are approaching lockout.
9) Return the safety lever to its starting position
10) Lower the weight until you feel the carriage rest on the safety stops
Leg Press Benefits
If you're serious about building muscle, whether that's in your legs, back, chest, or arms, you need progressive overload.
This means you need to break the muscle down with resistance training, then encourage recovery and growth through rest and good nutrition.
But to train your muscles to failure, you'll need some carefully chosen fitness equipment. Machines and free weights that encourage high intensity training, without the need for a spotter.
So, does this mean buying a new leg press?
To help you decide, let's look at the top 5 benefits of leg press machines.
1. Support for Multiple Foot Positions
Many of the top leg press machines are designed with a large, multi-angle foot plate. This provides support for both narrow and wide stances, allowing you to switch the focus between specific leg muscles.
As a quick guide:
High feet placement – Puts more stress on the hamstrings and glutes
Low feet placement – Shifts the emphasis to your quads
Narrow stance leg presses – Increased recruitment of vastus lateralis (outer thigh, part of the quadricep)
Wide stance leg presses – More of a focus on the adductor muscles, vastus intermedius and vastus medialis (inner thigh, part of the quadricep)
With an isolateral leg press, the only natural range of motion is with a narrow stance.
But with subtle changes in foot placement, you can effectively train your quads, hamstrings, glutes, and calf muscles.
---
2. Muscular Legs
Compound exercises are the fastest way to add size and strength to your legs. This includes squats, stiff-legged deadlifts, hack squats, and leg presses.
But even if you find the perfect home leg press machine, you should still perform isolation exercises. Free weights are the best option, and allow you to fully develop this large and complex group of muscles.
The best leg workouts combine leg presses with exercises like dumbbell lunges, hamstring curls, and leg extensions. This way, you're able to fully develop each muscle through all natural planes of motion.
---
3. Prevent Putting Pressure on the Back
If you're experiencing frequent back pains from squatting, the leg press could be an excellent alternative. Thick cushioning and limited lower back movement during the exercise also means you'll place less strain on your lower spine.
Our personal preference is for the 45-degree leg press. The leverage leg press works too, but your lower back can become rounded due to the hip rotation. That's because the pivoting motion can cause you to bring your knees up to your chest.
---
4. Alternative to Squatting
Many people are drawn to the leg press because you can move much more weight than with the squat. For others, squats simply aren't an option. This could be due to certain physical limitations, such as body structure, back problems, or poor hip flexibility.
So, should you use a leg press machine instead of squats?
For optimal leg mass and complete lower body muscle development, it's important to use a range of exercises. Both squats and leg presses work the same muscles, but in slightly different ways.
One study, published in the Journal of Strength and Conditioning Research, asked a similar question. Researchers wanted to know whether the leg press or barbell back squat elicited the largest hormonal response.
With just ten male volunteers, the survey was certainly small.
Each participant performed six sets of 10 reps of leg press, using 80% of 1RM. On a separate day, they performed a squat workout of six sets of ten reps, again with 80% of 1RM.
At its peak, squats produced levels of testosterone 25% higher than the leg press, with 200% more growth hormone.
However, this is just one very small study, and people have been comparing squats against leg presses for decades. To find out more, check out this excellent article, published on T-Nation.
---
5. Carry Over Strength and Endurance for Squats
If you reach a plateau with your squats, leg press machines can help. They let you increase the strength of your leg muscles by overloading them safely, without the need for a spotter.
The fixed plane of motion means you're able to use more weight than you would when squatting. You can even use partial reps to focus on the stage of the lift that's causing the plateau.
This helps to break down the muscle, then rebuild stronger, if you consume sufficient calories and protein. The new strength carries over to the squat, resulting in a heavier one rep max and increased endurance (more reps).
---
6. Limits the Risk of Injury
Leg press machines protect your muscles and joints from injury by combining a fixed plane of motion with excellent stability.
During the eccentric and concentric motions, you're controlling the weight in a very specific way. That's compared to squats, where the plates or bar position on your back can shift, leading to unequal weight distribution.
In most cases, the leg press also has safety stoppers to prevent the weight moving below a certain point.
Safety rails work in a similar job for squat cages. But leg press machines allow you to lock in the weight without having to walk it back to the rack.
What to Look for in a Leg Press Machine?
Before you buy a leg press machine for your home, you should know the features worth paying for.
Do you need an isolateral/bilateral foot plate or does your workout only require a standard single platform? Is there anything stronger than 11-gauge steel, and how compact do you need the footprint?
To help you decide, we'll walk you through the top design features, space requirements, and best deals. Having all the facts will guarantee you only buy the best leg press machine for your budget.
1. Budget
It could be that you need a lightweight, compact leg press and you don't require much resistance. In this case, the Weider Ultimate Body Works home gym will set you back around $135. For slightly more resistance, you could buy the Powerline Vertical Leg Press (400 lb limit) for under $300.
Leverage leg press machines are mid-market in terms of price, with the Powertec Fitness Leg Press listed at around $900. This has the full 1,000 lb weight capacity, but doesn't have much in the way of weight plate storage. It also can't double as a hack squat machine.
Next up on the price scale is the sliding carriage leg press, which often doubles as a hack squat machine. The Body Solid Leg Press comes in around $2,000, making it slightly more affordable than the BodyCraft F660 and French Fitness Leg Press.
The most expensive leg machines are the standalone cable designs. They're often found in commercial gyms and health clubs, with a horizontal pressing motion and up to 310 lbs resistance.
Cable leg press machines can cost from $1,400 to $2,800 upwards. Unfortunately, they lack the strength-building potential of the 45-degree leg press machines from Body Solid, Rogue, Powertec, and French Fitness.
---
2. Space Requirements
If your home gym has very limited space, you'll want to consider one of the compact leg press machines. Unfortunately, there aren't many to choose from, especially if your legs are strong enough to press more than 400 lbs.
The Powerline PVLP156X Vertical Leg Press has a 400 lb weight capacity, and footprint measuring just 48″(W) x 46″(L). Weighing 90 lbs also makes it light enough to move around if needed.
Standalone cable leg press machines are mid-range in terms of space requirements, but also the most expensive option. The Body Solid Pro Club Line SLP500G2 has a 210 lb weight capacity, and footprint measuring 75″(L) x 32″(W).
After a size reduction in 2016, the Powertec Leg Press is only slightly larger, with a 79″(L) x 36.6″(W) footprint. It's also around $500 cheaper than the Pro Club Line cable leg press, and has a 1,000 lb weight capacity.
That's about as large as the footprint goes for your standard home gym leg press. Hack squat and leg press combinations can measure slightly larger, but usually have the same 1,000 lb limit. One of the best examples is the GLPH1100 from Body Solid (83″L x 34″W).
If you buy one of the top leg press machines from Rogue Fitness, French Fitness or EliteFTS, you'll need serious floor space. The French Fitness Monster P/L Leg Press is the largest, with a footprint measuring 103.7″L x 59.4″W x 74″H. In comparison, the Monster Mondo from EliteFTS measures 92″(L) x 41.5″(W).
---
3. Smoothness of the Pressing Motion
After loading a leg press with weight plates, you need confidence in the smooth movement of the carriage or pivot.
That's why companies have used a range of design features to guarantee a smooth pressing motion and even weight distribution.
Rogue Fitness, French Fitness, and EliteFTS have opted for linear bearings. These are renowned for their simplicity and high load capacities. Recirculating balls help to keep friction levels low, and are often used to carry heavy loads along a rail.
The Powerline PVLP156X leg press uses a slightly different method of nylon bushings. These are made from plastic rather than steel, but can support a heavy weight load with low levels of friction.
Powertec have opted for a combination of the two. Bearing-driven nylon reinforced wheels help boost stability while providing a smooth leg press motion.
---
4. Construction Quality
Whether it's a $300 Powerline leg press, or a $7,800+ EliteFTS leg press, the frame is usually 11-gauge solid steel. The variation comes from the dimensions of the frame supports, which range between 2″ x 4″, and 2″ x 2″.
Thinking more about the construction of a leg press machine, you also have to consider the quality of the bearings. They could be nylon bushings or linear ball bearings, or sometimes a combination of the two.
Also consider the ergonomics (how easy it is to use), and warranty duration. When companies offer lifetime warranties on their equipment, it's a major vote of confidence in the quality of their products.
Body Solid fitness equipment is renowned for having an excellent warranty. Their GLPH1100 Leg Press is covered by the following:
Frame and welds: Lifetime
Bearings, Plates, Guide Rods: Lifetime
Upholstery, Grips: Lifetime
Many companies offer a lifetime warranty on the frame and welds, but most are more limited on upholstery and grips. Rogue Fitness, for example, offer 90 days, while XMark Fitness has 1 year of coverage on 'wear and tear' items. This includes vinyl and rubber handles. French Fitness provides a 10-year parts and 1-year labor warranty.
---
5. Cushioning and Lumbar Support
An important part of buying a new leg press machine is checking the level of lumbar support. This is true whether you're using a 45-degree leg press, vertical leg press, or one of the horizontal cable machines. Your lower back needs to remain as static and protected as possible.
One of the best examples we've found is the Body Solid Leg Press & Hack Squat machine. This features ultra-tough 4″ thick DuraFirm padding, which is ergonomically contoured for maximum support of the lower back and shoulders. This includes separate shoulder pads for when you switch to hack squats.
Rogue Fitness and EliteFTS have taken this a step further, by splitting the back support cushioning into 3 sections. This offers better protection for your lower back if your hips rise as the weight moves down towards your chest.
You also want to make sure the leg press you buy has an adjustable back support. Most 45-degree leg press machines use pop-pin adjustable seats, which let you adjust the angle of the back pad.
Final Thoughts on the Best Leg Press Machines
Whether you're looking for a straight-forward, compact leg press machine, or a product with combined hack squat functionality and added brute strength, there is a perfect leg press machine for you.
No matter your preferences or budget, you're guaranteed to get in an excellent lowerbody workout with the leg press machines mentioned above. And best of all, you can do it all from the comfort of your home.
USA Home Gym gives in-depth insights into gym equipment, supplements, and fitness training methods. The motivation behind USA Home Gym is to provide you with information that goes beyond what you can find in any user manual, customer review, or other online review sites.
We go to great lengths to ensure that our reviews are completely comprehensive, usually covering everything from the design features to the warranty coverage and exercise options. This is all to help guide you towards the home gym equipment that's best suited to your goals and budget, whilst also being the highest quality option in your chosen price range.